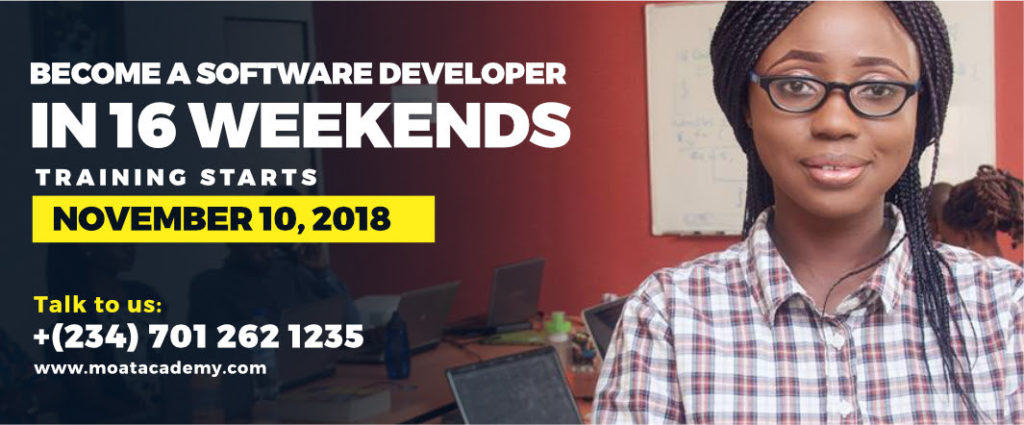 "Do what you love and you'll never have a problem with Monday"
Do you have passion for technology?
Do you love providing solutions to problems?
We know how to get you into the software development industry and even have an accelerated career.
Kindly let's take you on the journey to becoming a remarkable software developer through our 16-weekend coding boot camp.
Daniel was part of our past weekend cohorts and he has this to say:
"Within the past 1 year I have worked in two start-ups (Insidify Limited and StartUp Studio) and currently resumed at Telnet Nigeria Limited as a Software Engineer II. The time spent at Moat Academy in April 2017 formed the foundation in my programming journey and helped to better understand new languages. It was a stepping stone to get rooted and adequately prepare to take up the new challenges I face daily in my current role."- Daniel Makorno, Software Engineer II Telnet Nigeria Limited (April 2017 set)
Are you working, a NYSC member, a student, or you are not just available during the week; our 16-Weekend boot camp is a perfect fit for you.
The Modules that will be covered are:
▪ HTML, CSS and building Responsive Web Designs
▪ Javascript and Jquery
▪ Database Modeling and MySql Database handling
▪ PHP programming (Basics to Advanced)
▪ Software Engineering
▪ Version Control and other software Development Tools ( Git, Slack etc)
▪ Career Services (CV writing, Coaching for Interview etc).
All participants will be required to build a full-fledged web application of their choice during the programme to demonstrate their learning as they will be adequately trained
Please apply at http://www.moatacademy.com/signup/apply
Application closes November 5,2018 (Training starts on November 10, 2018). Apply early as selection follows immediately.
Time: Saturdays 9:00am to 5:00pm and Sundays 2:00pm to 5:00pm
Tuition: N200,000 (Payable in 2 instalments)
Location: 2 Irewole Avenue, Opebi, Lagos State
Telephone: 07012621235
Email: training@moatacademy.com
For further enquiries, call us on 07012621235 or send an email to training@moatacademy.com