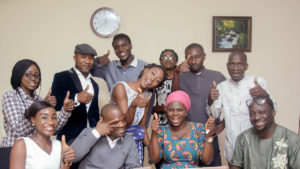 Moat Academy ( www.moatacademy.com ) is a coding boot camp in Lagos, Nigeria; a software developer hotbed where we have created an environment that fosters rapid growth and high performance for our participants to become remarkable developers even without prior knowledge in software development.
One of our aims as an organization is to improve the quality of software being developed, and the technical capabilities in Nigeria; this we cannot do alone, so we adopted the strategy of raising professionals who will inculcate globally accepted practices in software development and who will go into various technical companies or even set up theirs.
They are the new face and advocates of quality software development; they are our Alumni! No wonder they are having an accelerated career.
Next month October 2018 will mark two years that we had our very first coding boot camp. During this period of celebration, we can't but put these remarkable Alumni on the spotlight.
We want all our Alumni to know that they are coworkers with us in making locally developed software products competitive in the global market and we appreciate them all.
However, due to space constraint we can only showcase some of them as we share their stories:
Mariam Adedeji, Software Developer, Software Business Solution (July 2017 set):
"I work with SBSC(Software Business Solution Consulting) as a software developer..
The training at moat academy has given me full confidence of a skilled software engineer. After 2 years of no job after my NYSC, I took a bold step of going for training in software development with no prior knowledge in the field. I remembered when I decided to go for it; I was still scared because I knew how difficult it was for me to pass the only borrowed course from computer science department back then in university and Mrs Abiola assured me not to worry, that I would be surprised how smooth it would go. Today I'm proud to say that I'm working in a third company as a software developer earning a 6 figures salary in a reputable organisation in just a year after my training at Moat Academy. I thank God and I thank moat academy "
Daniel Makonor, Software Engineer II Telnet Nigeria Limited (April 2017 set):
"Within the past 1 year I have worked in two start-ups (Insidify Limited and StartUp Studio) and currently resumed at Telnet Nigeria Limited as a Software Engineer II.
The time spent at Moat Academy in April 2017 formed the foundation in my programming journey and helped to better understand new languages. It was a stepping stone to get rooted and adequately prepare to take up the new challenges I face daily in my current role."
Mustapha Omotunwase, Software Developer (Digital Lab) Fidelity Bank — April 2018 set:
"I was impressed with the learning culture which made me grounded in the fundamentals of programming as well as standards and policies to thrive and succeed in Information Technology Industry. Moat academy holds a special place in my heart."
Fisayo Idowu, NOC Engineer Interswitch Nigeria (April 2017 set):
"Moat academy is an excellent choice for anyone who desires to follow a career in the Software space.
They have well-seasoned trainers with vast knowledge of how the industry works. Their teaching method is quite engaging and this made me to push myself to be better and achieve more than I ever thought I could.
Opting for moat academy still ranks very high amongst the decisions I have made. The Impact the academy has had on my career has been massive. The work ethic, the family feel, the free consultancy"
Olusiji David, Dipole Diamond. Software Engineer. (July 2017 set):
"Learning the fundamentals of Software development in the immersive Moat academy boot-camp set me up immediately for an amazing career in technology.
My career and life in general have been on an upward trajectory since then and I face a future filled endless possibilities. Thanks to Moat for providing me with that solid foundation to build on"
Orolu Olajide, Head of IT RoyalCoast Technologies (April 2017):
"My time at Moat helped me with the understanding of Content Management Systems, Database analysis and the use of MVC frameworks. These skills have come in very useful in my day to day activities at my place of work"
Akugbe Ode, Software Developer, Olivet Cloud Solutions Nigeria Limited:
"Before coming to Moat Academy, I had not written any code in php and my knowledge of web technologies would rank 2 or 3 on a scale of 10. After 10 weeks of intensive training I built a full fledge project team collaborative application which I called Cohort. This was only possible because of the quality of training I received from Moat Academy and the support gained from the community (Moat Academy).
The training I received from Moat Academy helped me learn industry standard, industry best practices and cutting edge technologies such as version control, code igniter php framework for building web applications. I went on to learn php Laravel web framework which most company sorted.
Currently, I work at Olivet Cloud Solutions Nigeria Limited as a Software Developer in the Production department. As a software developer at Olivet Cloud Solutions, I have been involved in projects and my goal of becoming a world class developer is being realized because of the quality of training I received at Moat Academy".
Afeh Araromi, Junior Developer, Business Solutions DipoleDiamond Ltd:
"The greatest from my point of view is the essential foundation I got from my training at MA. I get to see new things been done at my organization (which I am thankful for) regularly so I know my learning cannot stop. Without the MA foundation, I would not have the confidence to believe, and the courage to dream that I cannot become better at programming, and applying it as a tool to proffer tangible solutions."
Bunmi Oluwasade. Founder, Avaley Consultings, Trainer with Google on Digital Skills For Africa programme:
"I run an ecommerce store at the moment and then I'm also a trainer with Google for the Digital Skills for Africa program.
Basically, learning at Moat Academy gave me an edge and boosted my confidence in the digital marketing space, even though I didn't pursue programming full time.
The knowledge I acquired has also enabled me become independent as I run a digital consulting company too and we really cannot talk with our clients without advising them on the kind of websites to build, how it should be responsive and search engine optimized and so on.
So, really the knowledge gained from Moat Academy has indeed given a headshot in my field."
If you are thinking of accelerated career, think Moat Academy!