Moat Academy is a leading coding boot camp in Africa situated in Lagos, Nigeria. At the last boot camp, our Cohort 24 members developed various applications of their choice; here we showcase two out of the interesting applications that can help solve some identified problems in our country.
Gravity

Solution

by Ugo

In recent times, building collapse has been so rampant especially in most major cities of the country. Just this week, there were two reported incidences of building collapse – one in Anambra which killed a father and two sons, another in Enugu that resulted in the death of four brothers.
Similar incidences like this led one of our cohort 24 member, Ugo to develop, a Web Application, he called Gravity Solution with the aim of reducing the incessant loss of lives, properties and money through structure and house collapse.

Ugo believes that if clients ( building owners) can have more access to vetted qualified building professionals, it will bring some sanity into the industry; so Gravity Solution allows Engineers and Clients to register and collaborate.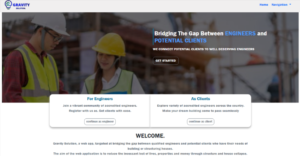 Ugo has now gained employment as a Software Developer with YIP Online
SafeFix by Femi
If there is something most phone users will have experienced; it is unexpected phone damage and the dilemma to get an experienced repairer to fix it.
It was not a thing of surprise that Femi, one of our cohort 24 members, who has a background in Electrical and Electronics has such keen interest in an idea to solve the above challenge for phone users through the development of a web application he called SafeFix, where phone users can get reliable repairers through fast and secure transactions.
Femi has now gained employment as a Software Developer with Euro Mega Atlantic