More than half of the top 10 largest companies in the world (by market capitalization) are data-centric: Apple, Microsoft, Amazon, Alphabet, Facebook, Tencent, Alibaba. The world economy has shifted from oil and gas to data-economy.
As so much is being invested to capture and derive more value from data, companies are finding ways to protect these data, one of the ways they do this is through application security, no wonder the demand for Application Security Engineers has sky-rocketed.
A quick search of Application Security Engineer Jobs in United States on LinkedIn shows an alarming 15,000 + job vacancies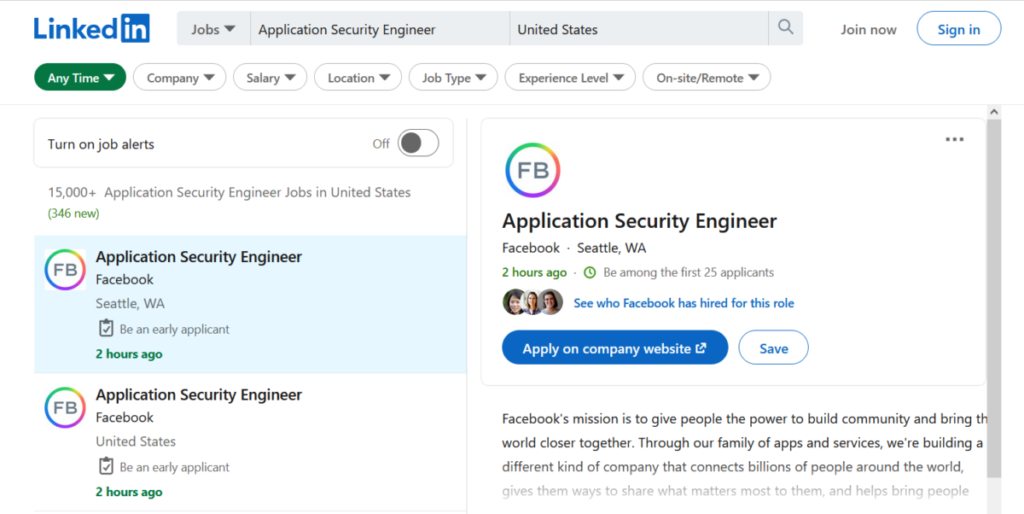 The remote jobs posted within the last 14 days for Application security Engineers on Indeed are over 8,000 vacancies.
All over the world including Nigeria, companies are actively recruiting Application Security Engineers and there is a serious shortage of these professionals globally.
According to Atlas VPN team report, the fastest-growing cybersecurity skill in 2021 is Application Development Security. It has been predicted that the demand for this competence is determined to rise by 164% in five years.
An Application Security Engineer ensures that every step of the software development lifecycle (SDLC) follows security best practices. They are also responsible for adhering to secure coding principles and aid in testing the application against security risks/parameters before release, thus assuring that application security vulnerabilities are mitigated.
At Moat Academy Secure Coding Boot Camp you can become an Application Security Engineer by applying on https://securecoding.moatacademy.com
Commencement Date : November 27,2021
Duration : 4 weeks ( workshop holds on Saturdays only , 9am to 5pm)
Certification : Certnexus Cyber Secure Coder
Pre-requisite: Programming experience required ( if you are without programming experience, our Full Stack Development Boot Camp is a good place to start)