Kalio , who has an expertise in sales of Medical Equipment, was part of our cohort 19 coding boot camp, which ended yesterday , Friday, December 10, 2021 . With his newly acquired software development skills he developed a marketplace for medical equipment, MEM to solve the pain points for hospitals, laboratories and the likes that usually have challenges sourcing for these equipment and also boost sales for merchants, in turn bringing an improvement to health care delivery in the country by providing easy access to state of the art medical equipment.
Narrating his experiences, he has these to say:
"To be candid, I had my doubts before enrolling for the Bootcamp. And the reason is not far-fetched: "How can you train a novice in programming to become a fullstack developer in 12 weeks?"
Well, not only did they accomplish that goal. With the training acquired, I was able to build Two (2) Web Applications (An E-commerce site on sales of Medical Equipment and a legacy Blog called Sands of Time); from frontend, database to backend using PHP(OOP and Laravel respectively), JavaScript, jQuery, Ajax, JSON, MySQL, Bootstrap, CSS and HTML. In addition, I was able to consume API and integrate payment into my E-commerce site; all in 12 weeks.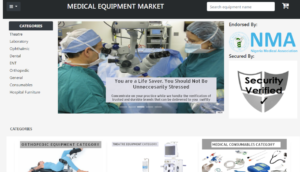 But the drilling to accomplish this goal was not an easy horse ride on the beach. Imagine absorbing Six (6) hours of learning new things in a field that upgrades rapidly from well grounded versatile Instructors that bring their vast knowledge into a class filled with newbies. Yet they managed to make the lectures very relatable with everyday activities. And just when you think classes are over and your problems are over for the day, you get to see assignments and projects that would definitely stretch you by taking almost Seven (7) hours with partial solutions achieved. And during corrections, it will take the Instructor barely Thirty (30) minutes to solve. You begin to question yourself if this field is meant for you.
When such times occur (which always does), I draw my inspiration and strength from our Morning Leadership sessions that shares stories from renowned reputable Motivational speakers and Life coaches telling us exactly why we feel that way, giving us guidelines on how to overcome it and encouraging us to still show up on the THIRD DAY till it gives way for us.
These Twelve (12) weeks were extremely challenging and purely designed for open-minded, disciplined and committed individuals who won't give up simply because the day's lecture was very demanding and didn't sink in the first time. Take note! MOAT will not pamper you, so don't enroll if you seek a babysitter to treat you like you are in Crèche. A flaw in an application can cost loss of lives and properties. It is with that mentality they treat their lecture approach by giving you the best industry standards applicable.
But overall, I enjoyed myself there and made new friends and Mentors who were very supportive when I had challenges. I also enrolled for the Cyber Secure Coding which is another expository program by MOAT ACADEMY that reveals unthinkable flaws in your Application."