Moat Academy shines at the United Nations (UN) Hackathon as 4 members of the 6-man winning team were our trainees at Moat Academy and at our Principal consultant's pet project - Pink IT initiative.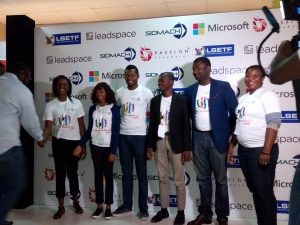 The Hackathon which took place between March 10 - 12, 2017 was implemented in 9 cities across the world, with Lagos as the only city in Africa; innovators and developers were selected through an application process. Each city focused on one of the United Nation's Sustainable Development goal, a total of 11 teams were formed and each team was asked to identify real problems in their community and develop scale-able solutions.
During the 3-day event, the teams developed prototype for their respective solution which they presented to the panel of Judges. The winning team which includes 4 members from our training will be given resources and support by the United Nations to improve, test and scale their idea to a full-fledged business and will be making a presentation of the product at the UN headquarters in New York in June 2107.
At Moat Academy, we are set out to raise top-notch software developers who can ply the trade with globally acceptable best practices anywhere in the world.